Vibration Research's VR9500 controllers are specially designed and engineered to provide superior value, including reliable performance, accurate testing and user-friendly features.
Intuitive, flexible and powerful, VibrationVIEW is Vibration Research's proprietary software that is used in conjunction with the VR9500 controller to set up and monitor vibration tests and to perform automatic as well as custom reporting. It runs on all versions of Microsoft Windows and offers the convenience of remote monitoring and control through the web and email.

More: https://vibrationresearch.com/products/#vr9500-revolution
The K2 controller from IMV Corporation provides the precision and repeatability required to test with condence during both product development and series production.
The K2 hardware and software has been developed in-house, giving IMV full design control of this important part of a vibration system.
The K2 system offers enhanced functions and operability based on the most advanced technologies and incorporating feedback from our customers.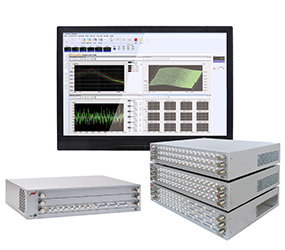 For more http://www.imv-tec.eu/products/controller/