Brake NVH Noise Dynamometer
Greening Model 1620 NVH Dynamometer is designed to detect noise and vibration in corner and axle brake fixtures. This machine can recreate the conditions that cause brake noise. The system utilizes the latest state-of-the-art technology to simulate actual operating conditions closely.
Data sample rate: User selectable up to 1,000 Hz
Drag torque capability: 3,000 Nm (~2,200 lbf)
Maximum rotation speed: 3,000 rpm
Maximum pressure: 30 MPa (~4,350 psi)
Brake apply: Controlled up to 150 MPa/sec
Minimum inertia: 2 Kg·m²
Torque: 8,000 NM (~5,900 lbf) in-line rotating
For more details visit:
http://greeninginc.com/products-and-services/test-equipment/nvh-dynamometer/
Accelerometers
Our partner DJB's range of accelerometers are available in a variety of configurations. They produce both Charge Output and Voltage Output IEPE Accelerometers including the world's smallest stainless steel accelerometers (A/28/E and A/128/V) and modal clip mounted triaxial accelerometers (AT/11, AT/13, A/136). Their range also includes unique and industry leading water cooled IEPE accelerometers capable of operating in extreme temperatures ranging up to 900°C. DJB's wide range of accelerometers are suitable for almost any vibration measurement application requiring a high degree of accuracy, in a potentially hostile environment.
For more details visit:
https://www.djbinstruments.com/products/piezoelectric-accelerometers
Impact Hammer
Impact Hammer
The IH series IEPE impact hammer range features a rugged force sensor that is integrated into the hammers striking surface. The force sensor serves to provide a measurement of the amplitude of the energy stimulus that is imparted to a test object. A variety of tips supplied with each hammer permit the energy content of the force impulse to be tailored to suit the requirements of the item under test. IH series impact hammers can be applied for Structure Health Testing, Resonance Determination, Modal Analysis, etc.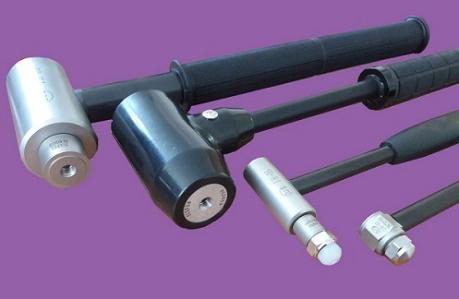 For more details visit:
https://www.djbinstruments.com/products/instrumentation/impact-hammers